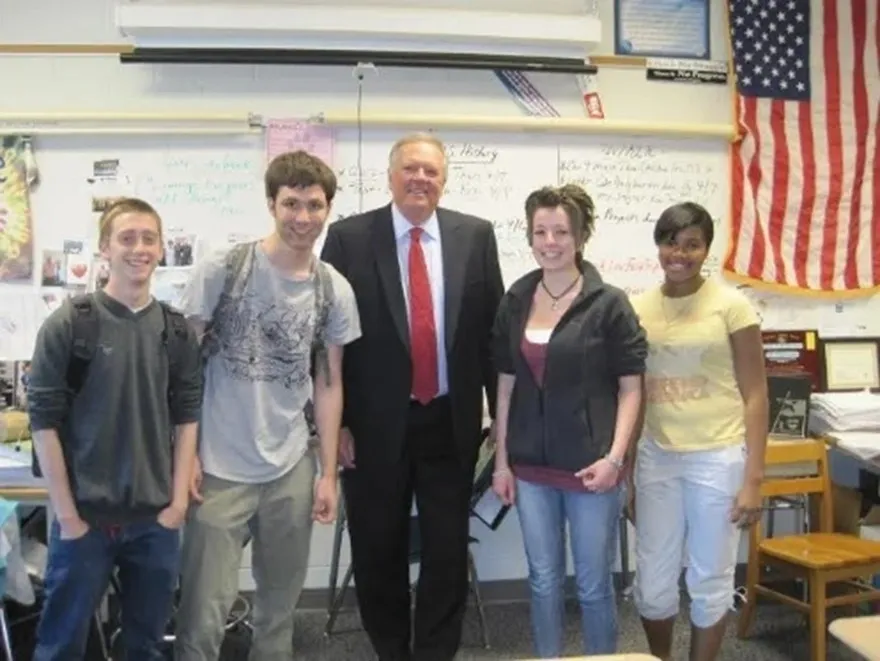 A Tribute to Larry Stogner
Larry Stogner, who passed away after a courageous battle with ALS on October 3, 2016, was a fantastic supporter of Millbrook High School's Lessons of Vietnam (LOV) Program. He was a devoted classroom speaker from 1999-2011, as well as a super LOV pen pal Link and Bridges Newsletter Advisory Board Member. He also presented several positive pieces about our program on WTVD News. Over the past several months, I have heard from several former LOV students who have reflected on the amazing impact made by Mr. Stogner as a result of his involvement in our LOV Program. What a gifted storyteller he was!
I would like to share some excerpts from a final letter written by a Millbrook High School Senior who had the wonderful opportunity of corresponding with Mr. Stogner over a three-month period:
Dear Mr. Stogner,
…I am so thankful that I was able to be in contact with you, and so disappointed that our time is up. There has never been a person from outside the classroom that has influenced my learning as substantially as you have. I am grateful for your time, candor, and commitment to this Linking Program. What you are doing is changing the way students understand and appreciate history. I remember in my United States History class, I finally started focusing when I realized that my grandfather had actually lived during the time that we were studying…
I remember sitting down at my computer trying to write my first link letter like it was yesterday. I sat wondering what I could possibly say that you had never answered before…Looking back, I'm not sure I would have predicted the range of topics that we ended up discussing. We talked about everything from protesters, to PTSD, to the Iraq Study Group Report, and even (big surprise) the media. Maybe the most moving part of the entire class, however, was our class field trip to the Vietnam Veterans Memorial in Washington, D.C. It was not until that trip that I really understood how the war had affected every single household in America. After visiting The Wall, I began to understand why veterans, like you, were so interested in educating the young people of today about a war they fought years ago at our same age.
Thank you so much for serving our country in such a great time of need, and for sharing with me that experience years later. You are doing much more than many people that make a career out of civil service, simply by not letting people forget about Vietnam. Maybe the important thing isn't that people know the lessons of Vietnam; maybe the important thing is that people don't forget that there are lessons to be learned from a war that so many of us would like to forget.
***************
Thank you, Larry, for taking the time to share your personal Vietnam experience and your journalistic expertise with hundreds of inquisitive high school students—and their teacher—for so many years. Thank you for caring so very much about the education of our youth! ~ Lindy Poling