Sharing Articles About
Classroom Activities Online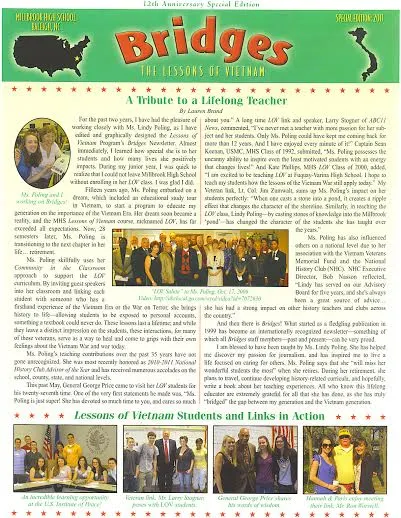 The award-winning Bridges—Lessons of Vietnam Newsletter was written, produced, and edited each year from 1999-2011 by Lindy Poling's Lessons of Vietnam (LOV) students. The purpose of this publication was to share articles about classroom activities and projects, community speakers, and pen pal links, as well as our Lessons of Vietnam Washington, DC field trip.
It also created an avenue for students to write creatively, as well as contribute unique original artwork, thanks to the amazing students of Fine Arts Instructor Elizabeth Stevenson. In 2004, the Bridges Newsletter Club became a charter member of the National History Club.
The Bridges newsletter is written, produced, and edited each year by students in the Lessons of Vietnam class.