Meet a Professional
Education Advisor & History Teacher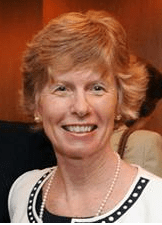 Lindy Poling received her B.A. in History from the College of William and Mary and her M.A.T. from Colgate University. Since February 2018, she has been working as an adjunct faculty member in William and Mary's School of Education Secondary Social Studies M.A.Ed. Program. A 35-year veteran high school and middle school educator, she spent most of her career teaching history at Millbrook High School in Raleigh, NC. She also chaired Millbrook High's Social Studies Department from 2005-2010. Ms. Poling served as an education advisor for Ken Burns' PBS documentary, The Vietnam War, from 2015-2017; the Vietnam Veterans Memorial Fund (VVMF) since 1999; and the National History Club since 2006.
Ms. Poling co-authored three Wake County (WCPSS) Social Studies curricula: U.S. History, American History Themes and Dreams, and Lessons of Vietnam/Recent International Relations. She has been a contributing author to the following publications: The Vietnam War in Popular Culture (ABC-CLIO), A Legacy of Service (VVMF, Inc.), The War and the Wall (VVMF, Inc.), Global Teach Net (National Peace Corps Association), The VVA Veteran, Homespun: Teaching Local History in Grades 6-12 (Heinemann Press), and NCSS Middle-Level Learning.
In her role as Education Advisor for the Vietnam Veterans Memorial Fund, Ms. Poling co-authored the Hometown Heroes Service Learning Project Curriculum Guide. She also actively recruited teachers from across the nation to pilot this unique educational program.
This dedicated teacher has been nationally recognized for her Community in the Classroom approach to studying history and her Lessons of Vietnam/Recent International Relations course. The Community in the Classroom approach helps students interpret history by seeing it through the eyes of those who experienced it. Students are encouraged to talk with family members about the Vietnam Era, and guest speakers come from North Carolina and across the country. Classroom speakers have included the late Admiral Elmo R. Zumwalt, Jr., General George B. Price, the late Vice Admiral Emmett Tidd, Medal of Honor recipient Colonel Roger Donlon, LTC James G. Zumwalt, ABC News Chief National Correspondent Byron Pitts, the late WTVD television news anchor Larry Stogner, former "Donut Dolly" "Larry" Hines, ARVN Air Force Veteran Son Pham and Raleigh City Councilman John Odom. In addition to her visiting speakers, each student is paired with a "link," someone who has firsthand experience with the Vietnam Era or the War on Terror, for the semester. Students also contribute to an award-winning quarterly newsletter entitled Bridges. The course culminates with a field trip to Washington, DC, which includes a special visit to the Vietnam Veterans Memorial.
Ms. Poling's currently serves on the VVMF Education Center at The Wall Content Advisory Committee and the National History Club Advisory Board. Past committee associations include the UNC-Chapel Hill Humanities and Human Values Teacher Advisory Committee and the UNC Project for Historical Education Steering Committee. She has received numerous honors on the local, state, and national levels, including: National History Club Advisor of the Year (2011 & 2007); WCPSS Exemplary Social Studies Leadership Award (2009); Kiwanis International District Patriotism Award (2008); Gilder Lehrman North Carolina History Teacher of the Year (2006); USA Today All-USA Teacher First Team (2004); American Battle Monuments Commission Recognition (2003); VFW National Citizenship Education Teacher of the Year (2002); WCPSS PTA Outstanding Character Education Program (2001, 2000); North Carolina Council of the Social Studies Secondary Social Studies Teacher of the Year (1998); and Wake County Teacher of the Year (1997-98).